Roll-Off Service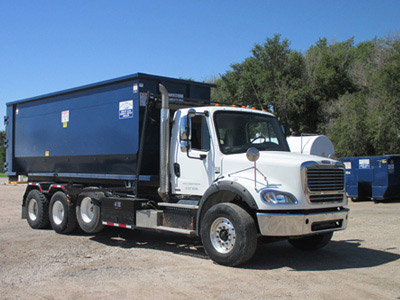 Business, commercial and industrial customers with bulky, non-compactible wastes such as paper, sawdust, wooden crates and many other materials are effectively serviced by roll-off container systems.
Please contact our offices to set up roll-off service.
620-227-3371
Contact Us
The high-capacity steel boxes used in this waste collection system can be hand-fed with large 7-foot rear doors that will accommodate fork lifts for depositing extremely bulky or heavy materials. Full roll-off containers can be hauled and returned or replaced with an empty one by Northend Disposal on a predetermined schedule or on an as needed basis.
Roll-off container designs are available as open-top units, closed compaction units and skid-mounted tank or vacuum units. A variety of other heavy-duty services are also available for customers that generate large volumes of waste.
Areas Served
Roll-off containers are available via Northend Disposal Services to the following counties:
Finney
Ford
Lane
Meade
Ness
Scott
And to parts of these counties:
Edwards
Gray
Hodgeman
Kiowa
*Note: If you need service in these counties, please call 620-227-3371 for details.
Roll-Off Container Sizes
| Sizes | Height | Width | Length |
| --- | --- | --- | --- |
| *20-yard Open Top | 3' - 5' | 8' | 22' |
| 30-yard Open Top | 5' - 6' | 8' | 22' |
| 40-yard Open Top | 7' - 8' | 8' | 22' |
*Note: Only 20 yard roll-offs will be provided for asphalt roofing as well as concrete and dirt jobs.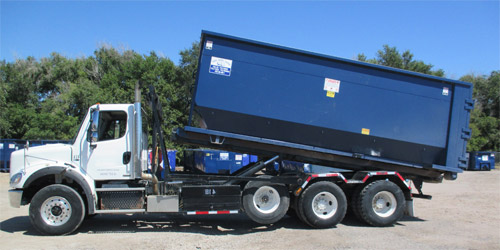 Acceptable Items for Roll-Off Containers
Appliances*
Bricks and masonry material
Clean rubble
Concrete
Construction related packaging from builders
Electrical wiring and components containing no hazardous material
Furniture
Mattresses and box springs**
Metal scraps
Mobile homes and trailers (shell only)
Motor vehicle glass
Non-asbestos insulation
Painted or coated wood
Plaster and drywall
Plumbing fixtures
Plywood
Small amounts of food waste (consumed on job site)
Treated wood from project
Untreated wood and sawdust
Wall and flooring coverings
Wood pallets
*Any item containing Freon, such as refrigerators and air conditioners, must be tagged
**Finney County Landfill does charge extra per mattress & box spring
Not Acceptable items for Construction & Demolition (C&D) Roll-Off Containers
Car parts
Caulking tubes
Clothing
Common garbage
Computer components
Drums and containers
Electrical equipment containing hazardous material
Friable asbestos
Grass clippings
Mud trap waste
Leaves
Paint cans
Plastic buckets
Sheets, towels, pillows or other bedding items
Tires
Toys
Trash bags
Treated wood not from a construction or demo site
TVs, VCRs, stereos or similar waste electronics